Hello all! Usually I don't post any blogs on Saturdays. Because usually on Saturdays, I would be extremely busy and tired with my piano classes, since I will be having classes from 7 in the morning till 7 at night (yeah!!!) But these days, with this lockdown and virus thing, I have cancelled all my piano classes so I am free to post a blog now on Saturdays at the moment! Today, I will be doing a book review on one of Liane Moriarty's books, The Husband's Secret.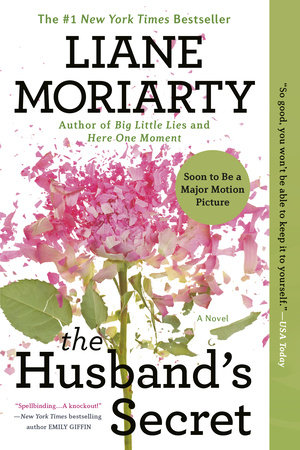 My darling Cecilia,
If you're reading this, then I've died…

Imagine your husband wrote you a letter, to be opened after his death. Imagine, too, that the letter contains his deepest, darkest secret—something with the potential to destroy not only the life you built together, but the lives of others as well. And then imagine that you stumble across that letter while your husband is still very much alive…

Cecilia Fitzpatrick has achieved it all—she's an incredibly successful businesswoman, a pillar of her small community, and a devoted wife and mother. But that letter is about to change everything—and not just for her. There are other women who barely know Cecilia—or each other—but they, too, are about to feel the earth-shattering repercussions of her husband's secret.
Paperback: 496 pages
Publisher: Berkley; Premium edition (June 27, 2017)
Language: English
Genre:- Thriller
Liane Moriarty is the Australian author of seven internationally best-selling novels: Three Wishes, The Last Anniversary, What Alice Forgot, The Hypnotist's Love Story and the number 1 New York Times bestsellers: The Husband's Secret, Big Little Lies and Truly Madly Guilty. Her books have been translated into over forty languages and read by more than 14 million people worldwide.
Big Little Lies and Truly Madly Guilty both debuted at number one on the New York Times bestseller list – the first time this has been achieved by an Australian. Big Little Lies was adapted into a multiple award-winning HBO series starring Nicole Kidman and Reese Witherspoon, who have also optioned the film rights for Truly Madly Guilty. Truly Madly Guilty has sold over 1 million copies in the US alone.
Her new novel, Nine Perfect Strangers is due for release in November 2018.
I have always wanted to read Liane's Moriarty's books and this has been on my want to read book list for a long time. I found this book at the book store and immediately grabbed this book.
So in a nutshell, the story starts with a woman named Cecelia Fitzpatrick, a successful businesswoman with a standing in the society and a dedicated mother comes across a letter written by her husband, while she was looking for something up in the attic. She opens the letter and discovers her husband's secret which would later on have a greater impact on her life as well as to the other characters.
I will start with the ones I liked about the book :-
I really like Moriarty's style of writing–it was simple and well written, making the reader intrigued with the story.
The story itself was funny and witty and at the same time, there are certain parts of the story that was sad particularly the part about Rachel.
The story talks about the suburban mothers' lifestyle and so it was kind of intriguing to get to know these lifestyles.
The story talks about the complex relationships particularly among women and also the relationships between husband and wife and the marital issues they are facing when something happens into their family.
I also like the epilogue part better as it outlined "what would have happened" and the possible future.
Despite being a psychological thriller, I like the fact that it was also a little fun to read as most thrillers have a serious tone in it.
Now let's talk about the parts where I didn't like about the books.
SPOILER ALERT–this story is solely focused on Janie's murder had on her mother and the people surrounding it, but I feel Tess's character may not be that much of an important character in the book.
There were some unnecessary parts in the book.
Some parts of the book was unrealistic.
Overall, this is actually an entertaining and fun book to read with a hint of mystery and thriller involved in it. I recommend this book to those who love to read a thriller book with slightly entertaining part in it.
Overall I rate this book as four stars!