I am somewhat a fan of Taylor Swift but her recent album Folklore was actually good and manage to download the songs into my iTunes. Any of you all a fan of Taylor Swift? I really do listen to most of her songs and do enjoy listening to them, so yeah, you can say I am a fan of Taylor Swift. But then I really like her Wildest Dreams and Love Song and still listen to those songs.
There is a book tag going on with a mention of Folklore Book Tag. I wasn't tagged but then I came across this tag from a blog, Books, Teacup and Reviews, and the original idea is from another blogger Ilsa @Whisper of Ink for this wonderful idea! Anyway, this blog post is an excuse to listen to her new album so I can match the songs with the books. So let's follow the rules before we start on our pick!
THE RULES
Link to the original creator: Ilsa @ A Whisper Of Ink
Tag at least 3 people.
Declare the rules and list of prompts in your post
Thank whoever who tagged you and link to their post
So let's start matching up the songs with the books.
This song is so catchy and really soothing…so the book with an ending that left me speechless is…Behind Closed Doors by B.A. Paris. I think I have a blog post with my review on it but the reason why I said it was speechless was…the book turned out to be really good and the ending was lame…so it kind of left me speechless in the end.
I really like the piano music in the background…so the book that made me happy and sad at the same time? Days of Wonder by Keith Stuart. A touching and emotional story between a father and a daughter, that story made me sad and happy at the same time.
I like the song…so catchy and soothing but the book I have chosen for this…not really my favorite book but was well written and realistic. An American Marriage by Tayari Jones
Again, I like the piano music playing in the background along with Bon Iver's voice. Anyway, the answer to this, I have so many books I wished I hadn't read. But I would say, Chetan Bhagat's Half Girlfriend was one of the books I wished I hadn't read.
There are some books that actually made me cry—but Khaled Hosseini's A Thousand Splendid Suns made me cry.
Honestly I have no answer to this question, although I really like the song–Taylor Swift's voice sounds so haunting in this song.
Even as a child, I read many books, by Enid Blyton and Roald Dahl but nothing makes me nostalgic as Harry Potter did to me. Harry Potter really affected me so much.
Nothing but the Lido by Libby really reminds me of summer.
I like this song…it's so haunting and soothing…is it the violin playing in the background? Anyway, The Secrets of Lost Stones by Melissa Payne really talks about being lonely and dealing with sadness and kind of matches with the song lyrics. I must have done a blog post on this book.
Harry Potter again!
OK, guilty as charged, Harry Potter wins this again as Harry Potter is the one that made me get into more reading.
I like again the piano tune at the beginning of this song. Anyway, here is a list of my favorite female characters
Hermione Granger from Harry Potter
Ella from The Girl I Left Behind
Louisa Clark from Me Before You
Elizabeth Bennet from Pride and Prejudice
Kasia Kusmerick and Caroline Ferriday from The Lilac Girls
And there are many more
Again there are so many to choose from. But I would say The Lilac Girls by Martha Hall Kelley was a haunting book along with Daughter of Reich by Louise Fein. And I really like the song…
I like the harmonica at the beginning. A book couple? I would choose Simon and Blue from Love Simon and also Liz Lightley and Macky in You Should See Me in a Crown.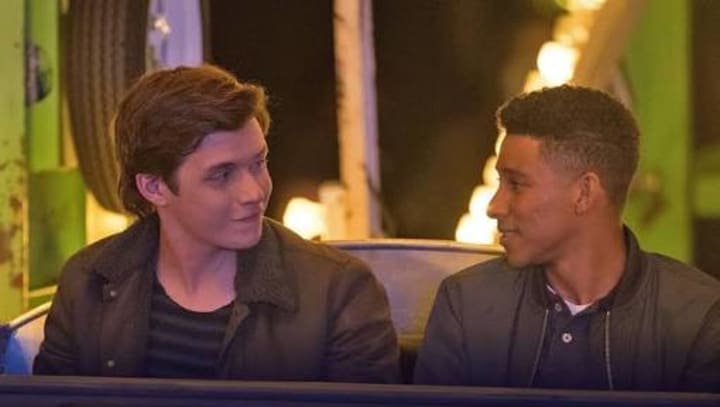 Hmm…too many to choose from.
I so love this song…the piano music makes it more haunting coupled with Taylor Swift's voice. So the book I thought I would love but didn't? Paper Towns by John Green. I don't understand the hype about this book.
I tag Christopher | Plucked from the Stacks, JustReadingJess, Megan
Thanks for reading and leave a comment below of what are your favorite books and who your favorite book couple is! And also if you like Taylor Swift or not…