"You cannot do anything in this country without my permission."
Being a teenager isn't easy. And it doesn't help when you have a mega strict Egyptian dad who tells you that everything is "haram" a.k.a. forbidden. All Sara wants to do is experiment with makeup, listen to the latest Destiny's Child single and read fashion magazines, but her dad's conservative interpretation of Islam makes it impossible. Things get even harder when her dad lands himself a job in the Arabian Gulf and moves Sara and her family to a country where the patriarchy rules supreme. In a country where you have to have your father's permission for everything, every door feels like it is being closed on Sara's future. In a desperate bid for freedom, Sara makes a judgement call that threatens to ruin their dysfunctional father-daughter relationship forever.
Hijab & Red Lipstick is told from the perspective of a young British Muslim woman growing up between London and the Middle East. It is a tale of a young woman's difficult quest to find herself, offering an unusual and unique insight into life in countries such as Saudi Arabia, Qatar and the UAE, where people's personal lives, relationships and coming of age experiences are rarely spoken about
No. of pages:- 272 pages
Date published:- will be published on 5th November 2020
Genre:- Arab Culture
Thank You Netgalley and the publisher for giving me the ARC! This review is strictly based on my opinion.
This story is about a girl named Sara, who is half-British, half Egyptian, who was born and raised in Britain, but moves to the Gulf when her father gets a job there. Sara also has a strict father. Like every teenager, Sara wants to apply lipstick and be like a normal teenager listening to Destiny's child but for her father, everything she likes is "haram" meaning forbidden.
I really enjoyed reading the story! Though this book reminds me a little bit of A Woman is No Man by Etaf Rum, though this is a bit different. Both books talk about the Arab culture but in this book, it talks about how Sara's father, who after moved to the Gulf changed and became strict with his children, particularly if they listen to western music, it is "haram" and going out without wearing a hijab is a "haram". This book literally talks about how Sara is dealing with the Arab culture. The book was well written, witty and funny and as this book was written on Sara's perspectives, it was interesting to know about her thoughts.
Overall, I enjoyed reading this book and worth four stars!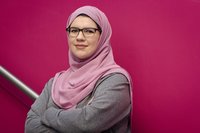 Here's a bit about me
I've been writing ever since the moment I could hold a pen. I was always entering writing and poetry competitions at school – and won a fair few – and I even wrote the script for the end-of-year play when I was in Year 6!
Fast forward ten years later, and at the age of 20 I began to write articles for blogs, websites and glossy magazines while living in Qatar, and another decade later, at the ripe old age of 31, my first novel, Hijab and Red Lipstick, is being published in the UK by Hashtag Press. You can find out more about my writing experience on the Writing Services section of this website.
I am half English, half Egyptian, and was born and brought up in London, before moving to Qatar at the age of fourteen, where I lived until I was 29 years old.
I am now based in West Yorkshire where I live with my husband and work full time in the higher education sector.
Interesting fact: I used to be a personal trainer and fitness instructor and once modelled for Puma. I was diagnosed with Ehlers-Danlos Syndrome in 2017 and damage to my joints meant I could no longer carry on coaching and teaching.
I am an avid reader and like to review books on my Instagram account as well as review them on the blog section of this website. My favourite things to do (other than writing and reading) are drinking a good coffee or cup of karak chai, hiking, watching movies, listening to old Arabic music, and exploring new cities.
I identify as a Muslim feminist, and I am passionate about women's rights, gender justice, disability awareness, mental health and women in Islam.