Hey all, today I will be doing a review on historical/romantic fiction, The Japanese Lover by Isabel Allende!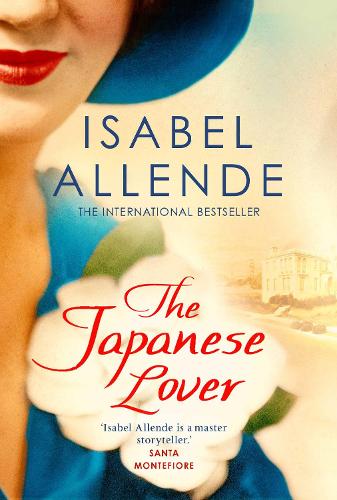 1939: As the world goes to war, Alma Belasco's Polish parents send her to live in safety with relatives in San Francisco. There she meets Ichimei Fukuda, the son of the family's Japanese gardener, and between them a tender love blossoms. But following Pearl Harbor, Ichimei and his family are declared enemies by the US government and relocated to internment camps. Although Alma and Ichimei reunite again and again, theirs is a love they are forever forced to hide… Decades later, care worker Irina Bazili meets Alma and her grandson, Seth, at Lark House nursing home. As Irina and Seth forge a friendship, they become intrigued by a series of mysterious gifts and letters sent to Alma, and learn about Ichimei and this extraordinary secret passion that has endured for nearly seventy years.
Paperback: 336 pages
Publisher: Atria Books; Reprint edition (July 5, 2016)
Language: English
Genre–Family Saga/Literary/Romance
Isabel Allende born August 2, 1942 is a Chilean writer.[1][2] Allende, whose works sometimes contain aspects of the genre of "magical realism", is famous for novels such as The House of the Spirits (La casa de los espíritus, 1982) and City of the Beasts (La ciudad de las bestias, 2002), which have been commercially successful. Allende has been called "the world's most widely read Spanish-language author."[3] In 2004, Allende was inducted into the American Academy of Arts and Letters,[4] and in 2010, she received Chile's National Literature Prize.[5] President Barack Obama awarded her the 2014 Presidential Medal of Freedom.[6]
Allende's novels are often based upon her personal experience and historical events and pay homage to the lives of women, while weaving together elements of myth and realism. She has lectured and toured many American colleges to teach literature. Fluent in English as a second language, Allende was granted United States citizenship in 1993, having lived in California with her American husband since 1989. (courtesy of Wikipedia)
OK, I like Allende's style of writing. I enjoyed her writing immensely. The story explores the lives of two women in two different eras–Alma Belasco who moves to live with her aunt in California from Poland who harbored romantic feelings towards her uncle's gardner's son Ichimei Fukuda, a Japanese-American boy. The story explores the life during WWII especially the time and fate of Japanese-Americans who were sent to internment camps on the outskirts of the city after the Pearl Harbor bombing. It also describes her special friendship with her cousin, Nathaniel and about her care free life in general though she still loves Ichimei. The second woman is Irina Bazili, a caretaker at the Lark House where now elderly Alma Belasco lives and who is struggling with her past when her stepfather made videos of her and distributed around the world as child pornography. Overall the story describes the struggles as a woman, the romance, struggles of romance and heartbreak and Allende carefully inter wine the lives of the two women. It was enjoyable to read.
Overall the rating is…
Stay tuned for my next blog!